Warung Tinggi
Warung Tinggi
Every town in Java (and other Indonesian islands as well) has their own coffee brand. Koffie Aroma from Bandung, Kapal Api from Surabaya, etc, have their own reputation regionally (and in some cases: internationally). Jakarta, as the first site in Indonesia where coffee trees were planted, has its own classical brand: Warung Tinggi.
The story began with a small food stall in Jakarta Kota (now named Jalan Hayam Wuruk), that sold local stuff to the neighbourhood. Each day, a woman visited the shop, carried fresh coffee bean in a basket on her head. The shop owner, Liauw Tek Siong, would buy the beans, traditionally roasted the coffee in a small pan, and sold the coffee. The coffee became famous, and Mr Liauw decided to open a new shop in 1878 to sell only coffee under a new brand: Tek Soen Hoo. This shop was then handed to his son, Liauw Tian Djie. This second Liauw stopped using pan, and started mechanizing the process using a roasting drum. Some years later, in 1938, they designed a logo for the coffee: a picture of a lady who originally sold them the coffee beans.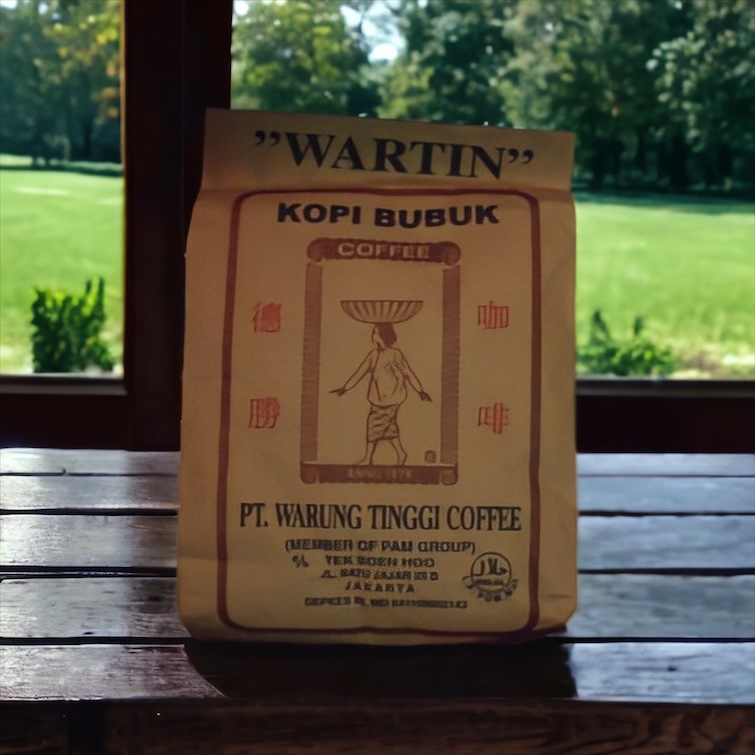 On Soe Har To's new order era, the government discouraged the usage of chinese name or brand throughout the country. Liauw chose to change the brand of his coffee. Considering that his shop was famous as the highest food stall on the neighbourhood, he adopted the name Warung Tinggi (high shop) as his new brand.
The third generation took over the business in 1969, under Liauw Tiam Yan. The junior Liauw began packing his beans in aluminium foil instead of brown paper. In 1994, the production outpaced the capacity, and the roasting machines were moved out to Tangerang. In 2001, the Liauw family decided to split into two groups: one to continue with the Warung Tinggi brand, and the other to establish a new brand: Bakoel Koffie. Unfortunately, the Warung Tinggi brand was then sold to another investor. Now the Liauw's fourth generation continues with the brand Bakoel Koffie.
If we are lucky, we can find both Warung Tinggi dan Bakoel Koffie brand in Jakarta. Sometimes we could also find Warung Tinggi with old package of brown paper, with label "Wartin" on it. It is another Indonesian culture: to make abbreviations of almost everything.
Reference: Gabriella Teggia, A Cup of Java.